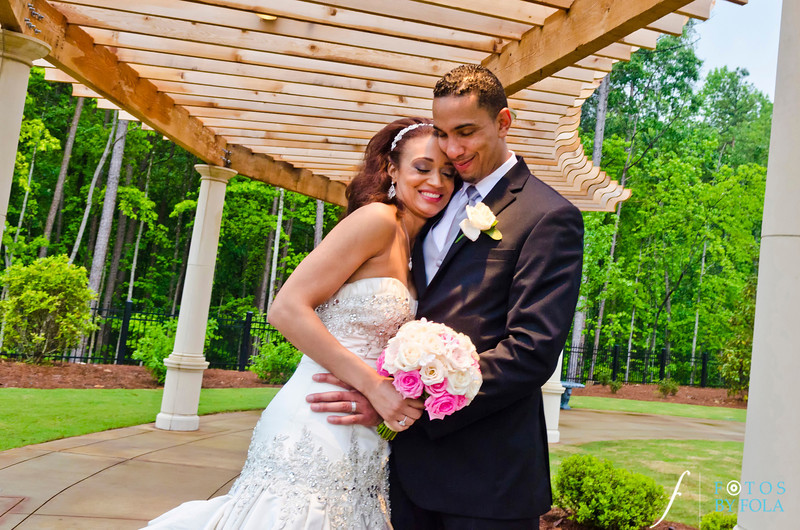 Hello Folks! Hope you had a great Memorial holiday weekend. Stacie and Morris had a beautiful and fun filled wedding. Stacie is from the south and Morris is from the North so the wedding had a nice balance of southern hospitality and NY style. I had a BLAST at this wedding. Congrats guys. I wish you a happy married life. Wedding took place at the lovely Ashton Gardens. Check out some images from the day.
Beautiful dress.. I found out Stacie is a Celeb and was featured on TLC's "I found the gown!" lol
Epic dance battle….Fellas vs Ladies! I'd say the ladies won this one 🙂
North vs South face off! This was mad fun!!!
Congrats guys!!!!
Vendors
Bride's Hair:    Dana Gibbs, Dana's Loft HAIR NYC- 646-391-6080
Bride's Makeup:  Adellia Edwards- Lavish Lux Salon Boutique- 678-830-4660
Flowers:         Georgia Griffin- A Wedding in Silk-  678-231-9701
DJ:              DJ Carve- r http://carverthegreat.wordpress.com/
Cake:            Natalie, Cake Envy-  678-456-8806
Photographer:    Fotos by Fola
2nd Shooter :    Kam – www.socialshotsphotos.com
Videographer:    Bennie, J&J Productions 678-561-1351
Stationary:      Courtney Talbot – courtneypage@gmail.com
Venue: Ashton Gardens
Dont forget to share this
Tweet ——————————————————————————————————————————————————————————————————-
Dont forget to like this

Ashton Gardens, Atlanta Wedding photographer, Atlanta Wedding Photographers, Best Wedding Photographer, Georgia Wedding Photographers, New York Style Wedding