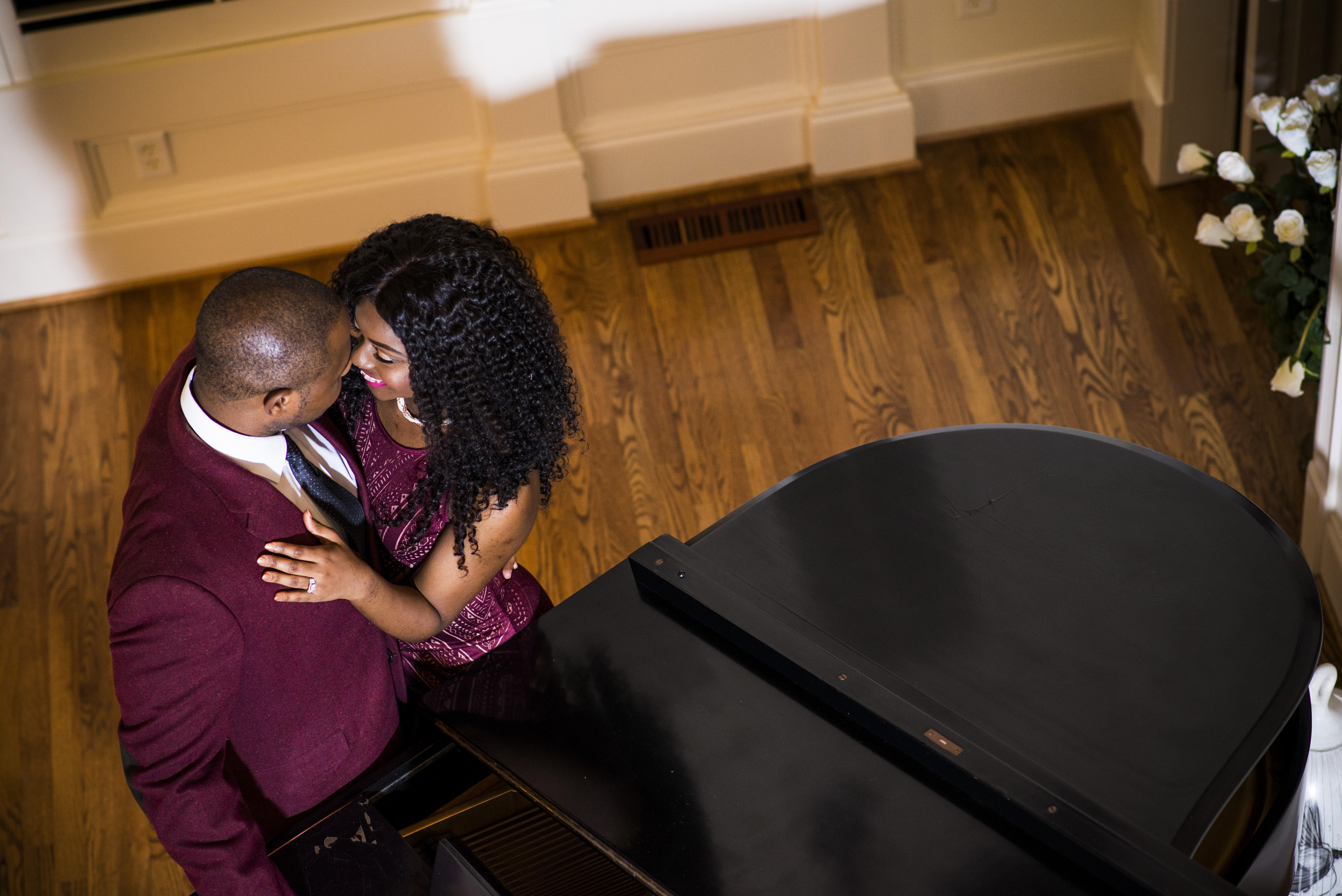 Happy Monday! Thanks for dropping by! Jennifer & Dami are on the blog today! I first officially met Jennifer at her sisters wedding that i shot last year. Fast forward a few months later Jennifer contacted me that she was getting married! I was thrilled and happy for her. Dami is a great guy and i actually know his older sister. It's interesting how small the world can be. The shoot was fun and unique (Just how i like it 🙂 ). One cool thing Jennifer mentioned is their love for cooking so the Kitchen scene was perfect. Congrats on your engagement guys. Looking forward to your special day. The shoot took place at the beautiful Yancey House. Check out the story on how it all started and some images from the day. Enjoy!
How it all Started
I first knew of Dami years ago (probably in our pre-teen years), when my sisters and I would frequently sleep over at our cousin's house and attend their church, CAC Bethel. Over the years, we just knew of each other's families, ended up at the same functions and had numerous mutual friends. Fast forward to the Fall of 2011, I just started nursing school in Americus, GA and Dami just started medical school in Atlanta, GA. I was in a new city and starting a new chapter of my life. Because of that, dating was the last thing on my mind. Prior to meeting Dami, I had reached a point in my life where my spirit was longing for a deeper and more personal relationship with my Heavenly Father. I chose to grow in my faith and rededicate my life to my Lord and Savior, Jesus Christ. I remember always praying and telling God, "Let your will be done!" Not only His will concerning my future career, but also my future partner. Then on September 20, 2011, Dami sent me a message on Facebook saying "wow you've grown, I definitely didn't recognize you at all."
We chatted briefly, catching up on our school programs and about the small town schools we attended but then I told him I needed to study and would chat with him later. He then boldly asked me for my number. I gave him my number thinking the chance of this conversation continuing was slim to none because my T-Mobile cell phone at the time did not have service in Americus, GA. It was so bad I was barely able to keep in contact with my family and friends. It was semi-isolating but mostly annoying. The next day while I was in class, my phone rang. Mind you, my cell phone never worked in Americus GA and it definitely never worked in that particular class. It was a number I did not recognize. Don't judge me, but I answered my phone in class because it was a miracle! Plus, I hadn't heard my phone ring in a long time lol. The voice on the other end said, "Hey, it's me, Dami." All I could do was smile and told him I would call him back after class. When class ended, I drove out of the campus to call him back and we began skyping, writing emails and using all means of communication possible to talk. What I loved most about Dami was his boldness, his commitment to anything he set his mind to and most importantly, his God fearing spirit. We would often study, pray and encourage each other. Our friendship was beautiful; we were so different but yet so alike.
Dont forget to like this

Atlanta Wedding Photographers, Engagement Session, Engagement Session in the Kitchen, Georgia Wedding Photographers, the yancey house, Wifey - hubby themed engagement session